How to protect your airbnb in McAllen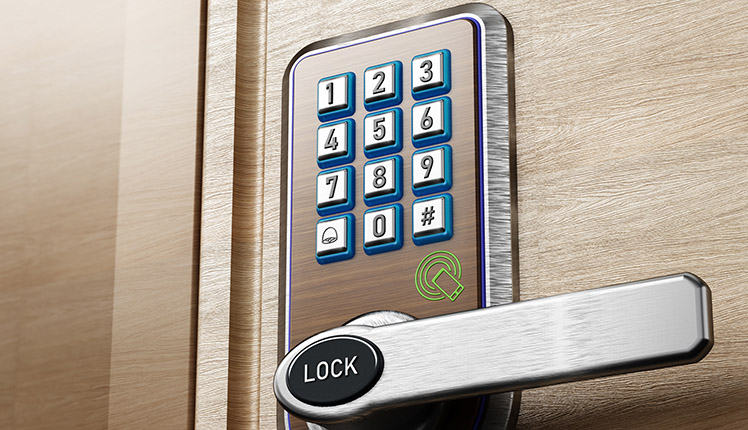 Irregardless of whether you rent out a single investment property or you run numerous Airbnbs, it can be difficult to protect your rental properties in McAllen. Unless you're live on site, it's normal to wonder about keys getting copied or former visitors unexpectedly showing up. And what should you do if there's a fire or flood at your Airbnb while it's being leased?
From smart door locks to comprehensive security with home automation, here are some top recommendations on how to protect your Airbnb in McAllen.
Don't worry about keys with smart locks
When a guest checks out, they might leave the keys behind for the next guest. Although, if a tenant grabbed or copied a key, they would be able to re-enter later. Of course, you have the option to replace your locks when a key is "misplaced", but that creates delays and cuts into your revenue.
Fortunately, you are now able to use smart locks that work in conjunction with your security system to counter these concerns. You will then give each renter their own unique entry code. When they check out, there's no need to worry with a key dropoff. You can simply customize the codes to deactivate when they're gone. If former occupants return and make an attempt to enter with their prior entry code on the keypad, you will be warned with an update of the failed attempt on your phone.
Smart home technology makes available rentals appear occupied at all times
The goal is that your McAllen rental property will be occupied, but that won't always be possible. However, you need to give an impression that people are present so your Airbnb isn't targeted by thieves. Installing a security system with home automation gives you the chance to use smart lighting, motion detection equipment, and security cameras that make your rental look lived-in.
Start by scheduling your smart lights to come on at specific hours of the night. You will also want your cell phone app to warn you if your exterior cameras notice an intruder lurking in the shadows or coming to your main entrance. You can employ the talk capability to make them aware that you're watching or arrange for your smart lights to automatically illuminate when a surveillance device or motion sensor discerns something unusual.
Protect your McAllen Airbnb with around-the-clock monitoring
Your tenants will have more peace of mind if they have protection against burglars, especially when McAllen is somewhat unfamiliar. When a prowler makes an effort to break in, your home security system will not only sound a siren but will also ping your 24-hour monitoring professionals. Now, no matter where you are, emergency services will be on its way. Your monitoring agents can even act as your authorized go-between and loop you in as soon as you're free.
Along with home invasions, your monitoring hub can link to fire alarms, flood sensors, and CO detectors. It would be understandably distressing for your renter if a water heater springs a leak or a fire erupts. Not only will you be sent a cell phone update that an emergency has happened, but a representative can also authorize help from emergency personnel while you're on the way.
Request an innovative home protection plan in McAllen
The first step in protecting your McAllen rental property is to invest in the latest in home protection. Thankfully, Vivint has popular choices like smart lights, smart entry locks, and 24/7 monitoring. Reach out today and our experienced team will design a plan that makes sense for your property. Call (956) 303-1646 or submit the form to get started!