Is there a good dog-friendly alarm system in McAllen?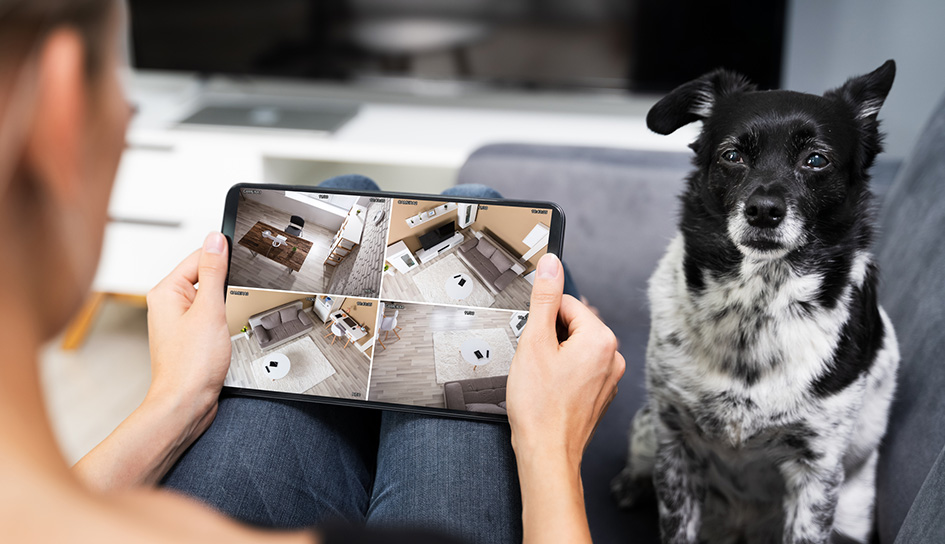 Not much is better than sharing your home with a dog in McAllen. However, many furry friends have been known to trip a sensor on various home security systems. And it stands to reason that the larger your pooch is, the greater the likelihood they might cause a false alarm. So wouldn't you find it beneficial if there was a dog-friendly alarm system in McAllen?
Vivint's smart home security system has several options that make sense for families with pets. To start with, you may adjust the sensors to exclude locations where pets usually wander about. Then, make use of your indoor surveillance devices with HD night vision and motion detection capacity to always have eyes on your animals. Lastly, your dog-friendly alarm system needs to be straightforward to control so you may quickly engage and disengage the system as needed.
Set your sensors to avoid your pet
Modern window, door, and motion sensors are more capable of adapting to pets than previous devices. Cats and smaller dogs should have no trouble avoiding an accidental tripping of the sensor, as the equipment are capable of adjusting. Larger dogs and rambunctious animals will have an increased possibility of false alarms, but you may decrease that risk with a few changes on the Vivint app.
Set the sensitivity levels of your motion detectors to low. You can also modify the amount of area covered by the motion detector.
Install detectors away from high-traffic spots, including a pet's preferred sleeping place or feeding area.
Turn off your alarms via your smartphone app when you're on your way home -- particularly if your furry friend likes to leap toward the door or window when you walk up the front steps.
Schedule a smart light to turn on to soothe an anxious pet at night.
The capability of handling these modifications is why Vivint is the best pet-friendly home security system in McAllen.
Utilize your indoor security cameras to see what's going on with your dog
Indoor security cameras with 2-way talk are an excellent method for homeowners to look into their four-legged companions while away from home via your helpful cell phone app. Your surveillance systems will even provide a video feed of your pet in low-light situations in full HD, so you may see what's going on throughout the house without leaving the bed. Whenever your cameras notice unexpected movements, you are able to have a smart clip delivered to your mobile device to ascertain if it's your dog or a burglar.
Your Vivint cameras are also fantastic tools for dogs who scare easily. If you observe them beginning to act up, soothe them via the camera's speaker. They can notice your speech and know that it's all right. Additionally, if you see that they are stressed with the onset of a storm, you might remotely turn on a light to make the room less alarming.
The leading dog-friendly home security system in McAllen is simple to manage
The many animal-friendly options are awesome, but they wouldn't benefit you a great deal if they were difficult to manage. The gratifying part about a smart home plan like Vivint's is that the various controls are found in both your central hub interface and your cell phone app. Go ahead and program your devices around your family's lifestyle -- and don't forget your dogs! All that is needed are a few touches of a button and you have your entire home defense package set up and ready to go.
Get your pet-friendly Vivint security system today!
Your security system shouldn't need to be a burden on your dogs. Instead, it should offer security while letting you keep a watch over your pets. Dial (956) 303-1646 or send in the following form today!